Company Profile
Our Commitment
As a patient, you are the most important part of our business. We strive to provide the best care possible at all times. Calenda EyeCare Center has been in business for over 30 years, and during that time we have built and refined a practice that is patient focused.
Below are our commitments we share to all of our patients:
What Patients Say
Dr. Calenda and Dr. Levin are both so considerate of my needs and answer all of my questions. They have a great selection of Gucci frames to choose from too!

I never have to wait more than a few minutes to be called for my appointment. I don't mind because the new office waiting room is beautiful.

I've been going to see Dr. Calenda for my entire life. He hasn't missed a beat the whole time. I couldn't imagine seeing anyone else. Thanks!

I travel a lot for work but the office is very accommodating of my schedule when it comes to appointments. It's very much appreciated.
1
Exceptional Care
Without a doubt, providing the best health care possible is our top mission. Our staff are experienced leaders in their field and have been practicing medicine in Rhode Island for decades. Calenda EyeCare Center is a well known staple within the state. You probably know someone who knows someone who comes in. It's Rhode Island afterall.
2
Personalized Care
How many times have you been to the doctor only to be rushed in and out in under 5 minutes? It will not happen here, period. After a thorough exam, our staff takes time to answer your questions thoughtfully. We empathize with the patient and understand coming to see a doctor can be stressful and confusing. We'll treat you respectfully as a person, not as a medical file.
3
Communication
Communicating effectively with our patients is an important goal that many practices overlook. We will explain in detail any diagnosis made, relevant medications, and short and long term prognosis. You will never leave the building confused about anything. If you have a question, just ask!
4
Efficiency
Nobody likes long waiting times, cancelled appointments or any other inefficiencies at the doctor's office. Calenda EyeCare Centers use cutting edge Electronic Medical Record (EMR) software that allows us to schedule appointments and reminders, check and order medications, provide medical records to you, and track your health record with ease.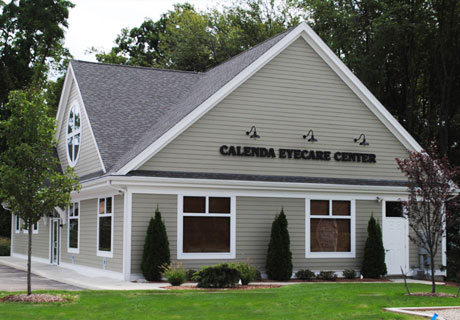 Why Choose Us ?
In addition to our primary commitments to our patients we also think you should know:
In many cases, we can offer same day service
We offer a van pickup and dropoff service to and from your home or even to the hospital for surgery
We have 2 convenient locations in Warwick and Providence
All of our locations have an Optical Shop where you can purchase frames and lenses directly
Calenda EyeCare is a family owned business that has medical practice roots spanning over 50 years
We want to hear feedback from our patients to help us continually improve!